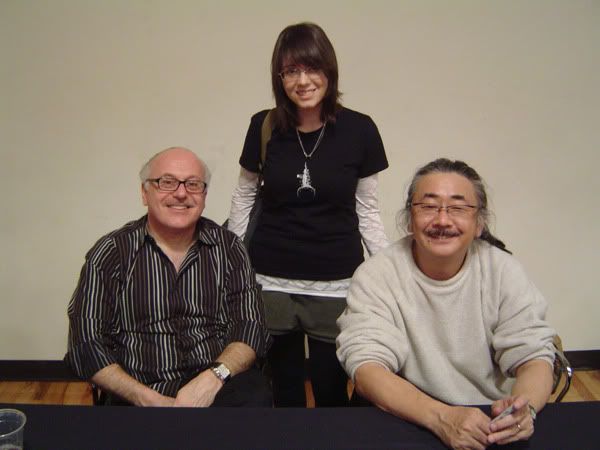 left to right = arnie roth (conductor), me (blissful fan), nobuo (uematsu)

AHHHHHHHHHHHHHH DISTANT WORLDS WAS AMAZING.
A M A Z I N G. i will definitely go again next time our paths cross.

BOMBING MISSION LIVE.
BOMBING MISSION LIVE. i lost it

also nobuo uematsu singing in the choir for one winged angel
it doesn't get better than this
(also i should note that now, having seen gackt and nobuo uematsu, i've been fortunate or persistent enough to have heard my two all-time favorite musicians at live concerts -- so now what?)

i got my FF7 OST signed as planned *u* they only allowed one thing to be signed, though digging around in my purse i came up with a stack of things i could have had signed otherwise, like my FF7 anniversary psp, dissidia game, or triple triad card (I LOVE THAT SONG OK IT WOULD HAVE OWNED)

anyway it was a magical evening. big big thanks again to jisuk for the ticket upgrade present! ;u; the songs i have stuck in my head from it are from games i don't even play, both sung by susan calloway-- memoro de la stono from FF11, and Answer from FF14 which is an AMAZING SONG.

ahhh nobuo uematsu is so adorable, and he speaks english which is awesome. he shook my hand and i got to thank him for everything. i told them that when i first played ff7, i would have never imagined that in 14 years i'd be listening to bombing mission at an opera house in new york city, and how much it meant to the fans. "we're more than happy to do it," arnie said. nobuo told me i should come back on saturday for aerith's theme (i almost did)

there's something incredibly validating about watching a hundred adults in fine evening wear, in a beautiful venue, putting their lifetime of talent and practice into recreating music that plays (sometimes to comic effect, but always in earnest) over sprites running across a world map on their projection screen.

...and there were barely any cosplayers, so thanks for mostly being classy, NYC!